We're in the UN Decade on Ecosystem Restoration: Here's What That Means
Posted on 20-01-2021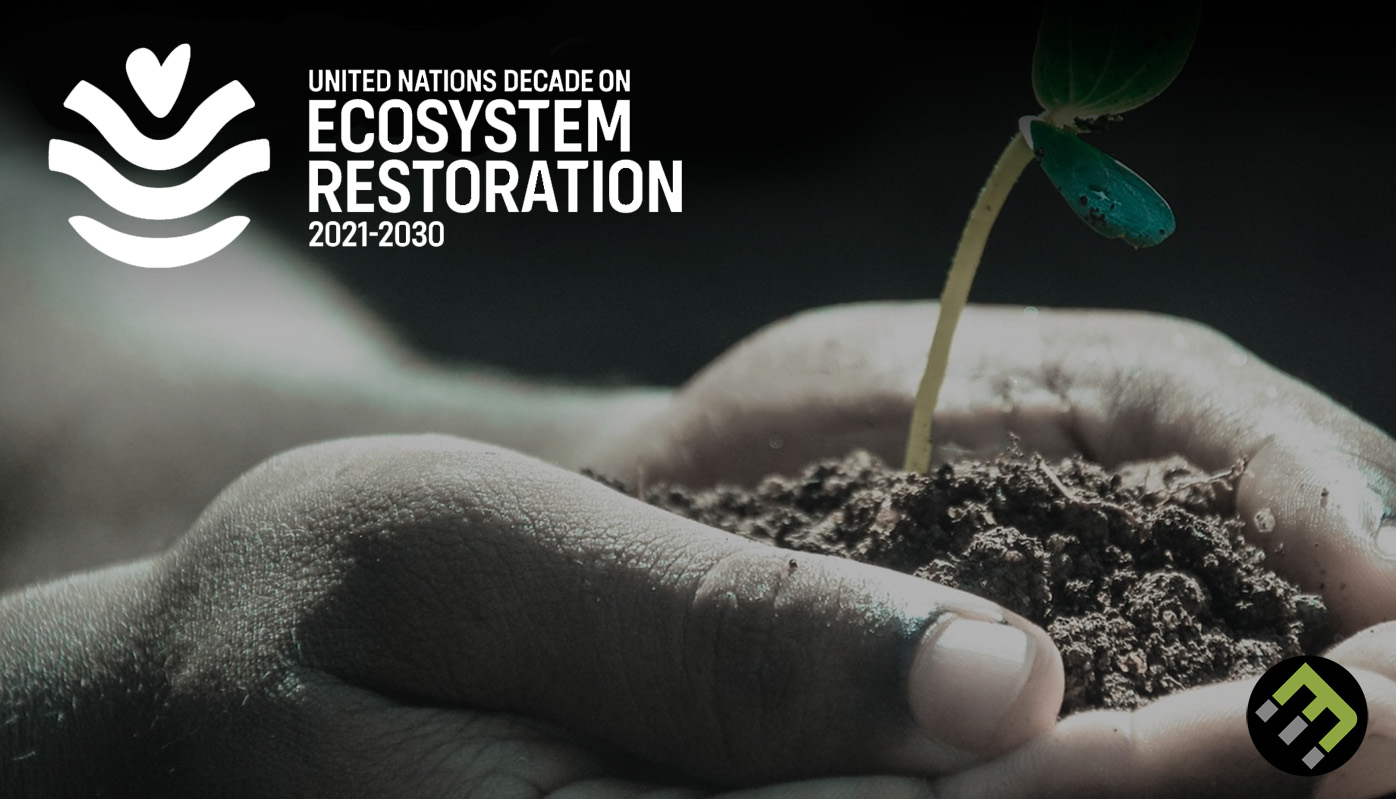 In 2021, the number '10' has special significance. Why, you ask? It's because we have 10 years to restore the planet and 10 powerful actions that we can commit to, every single day.
There's no denying that the world is grappling with multiple crises at once, but the environmental crisis arguably looms over them all. For years, the United Nations has established various policies and strategies in an effort to revive and sustain our natural world over time. Their latest step is to build #GenerationRestoration, and for this, they've declared the years 2021 to 2030 to be the UN Decade on Ecosystem Restoration.
A TL;DR about the UN Decade
After studying a wide spectrum of ecosystems, the UN found that ecological restoration may be just what we all need to bounce back economically from the COVID-19 crisis, as well as the cascading effects of other catastrophes around the world. This served as the ultimate push for UN Member States to implement the Decade on Ecosystem Restoration and work towards more social, economic, and ecological resilience. Through the Decade and its strategies, the UN hopes to mobilise every stakeholder that depends on the environment—from corporates and NGOs to farmers and indigenous people—to collaborate over world-changing restoration initiatives.
But why just 10 years? It's worth mentioning the work doesn't stop at the end of the Decade — if anything, it creates a culture of respecting relationships with nature, and makes the environment a pillar of society and national systems, rather than something to use and throw.
What ecosystem restoration entails
The concept of restoration is complex and multi-layered. But in short, it means actively helping the recovery of degraded or destroyed ecosystems. This ecosystem restoration also involves protecting and nurturing systems that are still around. It is a vast field (which I have covered in great detail in a previous blog post) and offers up multiple solutions, strategies, and approaches based on context and priority. We can say that ecosystem restoration includes, but isn't limited to:
Active reforestation and tree planting
Removal of human-made pressures so the environment can thrive
Maintenance and protection of crucial water bodies through laws and sustainable fishing
We're collectively responsible for restoring large and minute ecosystems, whether directly or indirectly related to our individual lives. In doing so, we stand to gain so much — from better environments worth living in, to a reduced risk of natural disasters and epidemics.
That's why the UN Decade of Ecosystem Restoration can make or break the future we hand down to the coming generations.
How organisations can offer support
We're sure you've seen this happen multiple times: organisations point fingers at individuals unable to make sustainable choices, while individuals boycott organisations for steering well away from the green Earth agenda. This game of hot potato is unnecessary, given that every single entity in society—regardless of size or social standing—can have such a positive impact on the planet should they just take the first step. 
Organisations have immense power to make the right choice. They hold sway over multiple economic, social, and cultural facets, but also have access to individuals (employees and customers included) who can be mobilised for good.
Here's how we'd interpret the UN Decade's proposed strategies for organisations of any scale who want to make a change:
1. Empower a global movement
Given the complicated nature of such an undertaking, it only makes sense that no single individual can set the course. And so, the Decade needs collaboration and interaction now more than ever, which organisations have the ability and resources to drive.
Tip: As an organisation, you can spearhead a restoration initiative within the company, or lead a community-centric programme that involves (and supports) the local area. Using communication channels to ask questions and spark thought is a wonderful way to set the ball rolling.
2. Finance ground-level restoration
An initiative of this scale and foresight needs resources. Unfortunately, the current narrative doesn't reward those who step forward, and the long-term benefits of restoration are foregone in favour of short-term rewards. By financing restoration on the ground, organisations can sway this unfortunate perception, and set the stage for peers and competitors to contribute as well.
Tip: Organisations can set up employee donation-matching programmes, restoration-centric CSR funds, or partner with providers such as EcoMatcher to make a difference through financial means.
3. Incentivise, incentivise, incentivise
Restoration is hardly presented as a financially beneficial initiative, which it absolutely is. While redirecting funds and efforts might mean some financial effects in the immediate future, there are ways to incentivise organisations to make that decision anyway.
Tip: This might involve the implementation of subsidies, or a show of support, or a certification that increases brand appeal.
4. Celebrate leadership
Being a leader can be a daunting task, with little to show for it. However, when an entire planet is at stake, it's worth re-evaluating how we look at leaders. This doesn't always have to be people in a leadership position; in fact, it might be easier for the general population to show support for leaders amongst them — whether that's an organisation, or an individual or team within an organisation.
Tip: Organisations can reward people who step up as leaders on the restoration front and support them so that their efforts are well-directed and benefit everyone involved.
5. Change behaviours
Consumer behaviour is a major driving force behind business decisions — and if they change, large-scales decisions follow. Organisations can help spearhead a change in behaviour and perceptions that are harmful to the environment. Once one company steps aside from the rest, all eyes turn to them — so may as well make it for a good reason, right?
Tip: Organisations can also offer alternatives that paint a better picture for all, instead of subscribing to the general order as everyone else does.
6. Put research first
There's a lot we know already, but a whole lot more that we don't. Unfortunately, the world at large seems to make decisions with existing knowledge — but the way forward will only be illuminated once organisations begin to invest in more and more research. What works for one may not work for another, so organisations stand a lot to gain from actively understanding their unique contexts and constraints, to make the best decisions for the environment within that.
Tip: Organisations can conduct an audit of major players in their industry, to identify gaps in their strategies and create a more holistic approach for themselves.
7. Build up capacity
It's no secret that the effects of climate change and consequent climate action favours some and marginalises others. During the UN Decade, organisations are in a great position to support marginalised communities and help them build up their capacity to help with restoration and continue the environmentally-friendly practices they already have in place. By helping remove barriers and introducing more choices, we're better positioned to help everyone—not just the privileged few—lend their support.
Tip: Organisational outreach programmes can involve supporting vulnerable groups with the resources they may need to fight the battle for the environment. This could be through education, funds, or human effort.
8. Celebrate the culture of restoration
Instead of viewing restoration as yet another thing on the to-do list, this UN Decade action aims to create a cultural revolution, a turn away from intrinsically capitalist and destructive tendencies.
Tips: Organisations can leverage the emotional power and reach of artists, storytellers, musicians, influencers and other powerful figures to celebrate the notion of restoration.
9. Build up the next generation
During these 10 years, the education of younger generations can drastically change the outlook of the world in the coming few years. A shift is needed in how we approach education about the environment, so that as children grow up they're naturally inclined to be ambassadors for the ecosystem. They'd also be much more aware of where the situation stands, making them more likely to make more sustainable decisions.
Tip: As an organisation, you could encourage restoration education at underprivileged institutions, sponsor courses and events.
The final action on the list is the broadest of them all: listen and learn. There's plenty more to understand about the world we live in, so constantly encouraging members of organisations to listen, learn and adapt will prove very helpful. We're sitting on immense potential, and driving these forces towards the restoration of our ecosystems will change the face of the world as we know it, in the next 10 years.