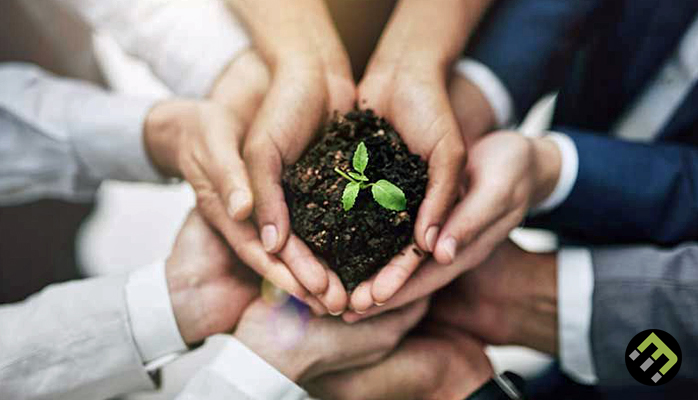 What Tree Planting Does For Employee Engagement
Employee engagement is often mistaken for employee happiness or satisfaction. While these two components are vital to the overall health of your organization, they do not refer to employee engagement– if anything, they are by-products.
Employee engagement points to the emotional investment and commitment of your employees to your company and its goals.
An organization that focuses on employee engagement has employees that care about their work and the organization. They look upon their roles as active contributions to the overall business and health of the company they work for.
It is easy to see why companies strive for high levels of employee engagement. It means that employees are more invested in their roles, they take ownership of their efforts, and the team rallies around the organization during crunch-time.
According to Industrial and Organizational Psychology by Macey and Schneider, organizations can gain a competitive advantage through employee engagement. They found that, out of 65 firms in a variety of sectors, the top 25% of most engaged firms experienced greater returns on assets and profitability. They also had more than double the shareholder value of firms in the bottom 25%. [1]
How to boost employee engagement
According to a paper published in the Academy of Management Journal by Kahn in 1990, employee engagement is built by three conditions – psychological meaningfulness, psychological safety, and psychological availability.
Psychological meaningfulness is achieved when people feel worthwhile, valuable, and that they matter. Psychological safety is associated with establishing stable environments where clear boundaries of passable conduct and encouragement for self-expression exist. Psychological availability, in turn, draws from the emotional and psychological resources that employees can bring to their work performances.
Now that we have established what is required to boost engagement, the next step is how to do it. One of the critical factors towards satisfying the first condition of psychological meaningfulness is to create a sense of ownership amongst employees.
Workplaces as part of a larger whole
It is essential to think of a workplace not as a silo but as a part of a broader ecosystem. Employee satisfaction and happiness largely ties to how seriously the firm takes the industry, indeed the larger world. Employees are more likely to be proud of their accomplishments if they're impacting the larger world, rather than if they feel as though their contributions don't go beyond the walls of their office.
One of the newest and most promising ways you can foster engagement is by taking it out of the work atmosphere and into the real world, by planting trees. This goes beyond off-sites and team building activities– it places the literal future of the world in each employee's hands. In today's world of climate change and global warming, employees are looking for organizations that reflect their concerns over the future of the planet. Tree planting not only fosters ownership but also signals to employees that your company's principles are aligned with their own.
How tree planting aids engagement
The cornerstone of any employee engagement activity is the goal and motivation behind it. Tree planting and reforestation efforts are at the forefront of the collective conscience currently due to the extensive green damage caused by deforestation. It is an issue at the very heart of the corporate world with numerous people taking an interest not only in the companies that pollute, but a keen and critical image is often given to company heads who do not contribute to the environment in one way or another. Tree planting as an employee engagement activity is one of the most effective motivators for a sustainable work model that emphasizes employee awareness and activism.
This also has numerous benefits for the CSR of the company and is a great PR story. Using tree planting as an employee engagement activity also offers employees the opportunity to gain the opportunity to present the company and themselves in an environmentally sustainable way that also emphasizes on team building. Planting and caring for a tree also have mental health benefits in the workplace, as employees feel more interconnected and, at the same time, are given a chance to disconnect. Engaging in tree planting will no doubt boost moods, as being out in nature is one of the easiest cures for ailments of the workplace.
The bottom line
There are several companies whose business model is centred on helping other organizations step into the realm of tree planting. With a company like EcoMatcher, you can plant an entire forest in your name and gift every employee a tree of the forest. Each employee will be able to track their tree virtually anytime they wish and see where their tree is in the company's forest. They can track the tree's growth and learn about how it is contributing to the health of the planet.
Organizations are at a crossroads where they must balance their bottom lines with the fate of the planet. Fortunately, there are several ways in which these two concerns can be addressed equally, at the same time. While these processes and initiatives might be different or new to industries, they remain effective with long-term benefits for all parties concerned. As we begin to gear our principles for a new world order, we must rise to the challenge with innovation and skill!