PROAmazonia and EcoMatcher Partnership: Progress Report
Posted on 23-11-2022
By Giovanny Romero, PROAmazonia
In March 2021, the United Nations Development Program (UNDP) and EcoMatcher signed an agreement to plant 83,636 trees in the Amazon province of Zamora Chinchipe in Ecuador and track all trees with EcoMatcher's Technologies. This initiative has been implemented in the framework of the Amazonian Integral Forest Conservation and Sustainable Production Program (PROAmazonia), which is led by the Ministries of Agriculture and Livestock, and of Environment, Water and Ecological Transition of Ecuador, and implemented by UNDP.
PROAmazonía was established in 2017 in Ecuador and is financed by the Green Climate Fund (GCF) and Global Environmental Fund (GEF). This initiative, among other actions, promotes the transition to sustainable and deforestation-free agricultural systems, especially in coffee, cocoa, palm oil, and livestock value chains, which are the main drivers of deforestation in the Ecuadorian Amazon.
To achieve such a goal, PROAmazonia has implemented Agricultural Field Schools, in which technical personnel from specialized institutions have supported the strengthening of 8,000 producers' capacities in good agricultural practices. As a result, over 64,000 productive hectares of the Amazon are currently in transition to sustainability. In addition, farmers have received non-monetary incentives, all along with the successful completion of the training program and their commitment to conserving the Amazon forest.
PROAmazonia has also worked on the repowering of 13 collection centers from coffee and cocoa-producing associations so that their post-harvesting processes can render high-quality final products. Eventually, the implementation of traceability systems on producer's farms and the sale of 11 tons of coffee and 17 tons of sustainable cocoa, with a deforestation-free mention, to companies like Lavazza and Silva Cacao, have marked the final step towards fulfilling a successful strategy of intervention.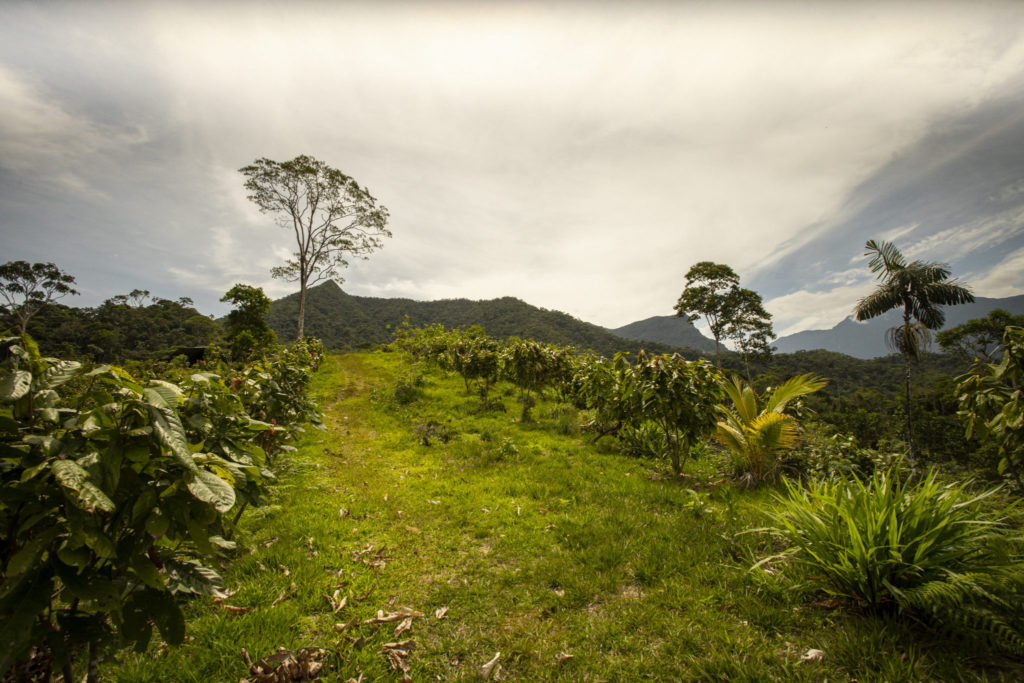 Within this framework, we are proud to announce that a portion of PROAmazonia's intervened farmlands – from over 200 families – have benefited from EcoMatcher's tree species, which have been planted in agroforestry systems, in favour of the transition to sustainable and deforestation-free production. Such species include cocoa, coffee, and other native plants. 
These agroforestry systems provide environmental benefits like soil protection, an increase in water amount, and an improvement in water quality. As a result, the Amazonian ecosystem becomes more resilient. According to the CEO and Founder of EcoMatcher, Bas Fransen, "Proper tree planting is essential to address the climate crisis, and this initiative could not come at a better time. We are grateful to partnering with PROAmazonia and the UNDP".
Since all these farmlands have been mapped by trained owners and farmers' associations within the framework of PROAmazonia, EcoMatcher's sponsors can have great confidence in preserving their adopted plants. Indeed, such activity was carried out by PROAmazonia to implement a forest conservation monitoring process in each farm, and to link the obtained information to a traceability system that provides transparency and guarantees the products' origin.
You can adopt PROAmazonia trees here: https://www.ecomatcher.com/product/trees-in-ecuador/.