Menaqua and EcoMatcher teaming up to regreen Jordan
Posted on 03-06-2021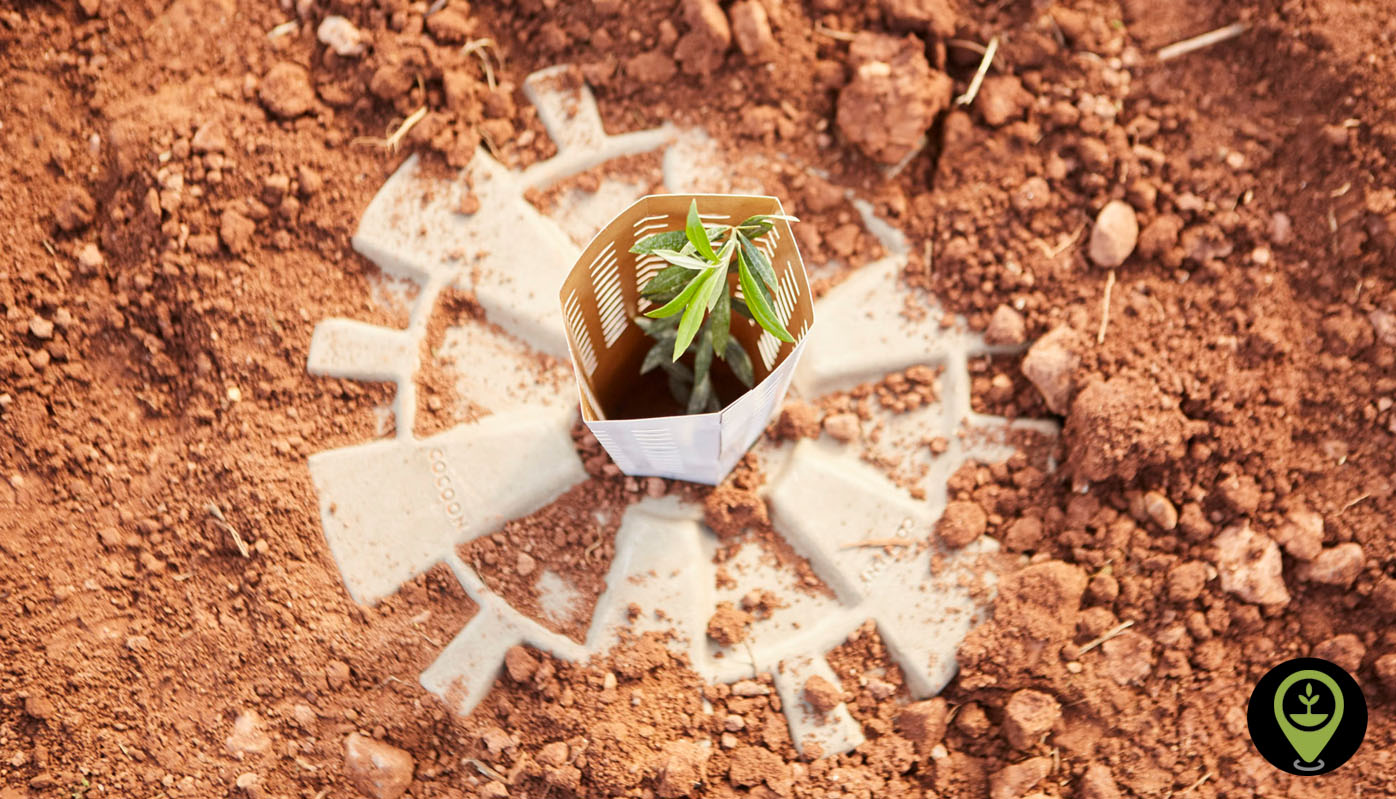 PRESS RELEASE
Hong Kong – Amman – The Hague, June 3, 2021. The Government of the Hashemite Kingdom of Jordan represented by the Ministry of Agriculture, EcoMatcher, and Menaqua are pleased to announce a groundbreaking partnership for planting trees in Jordan. Starting in June trees will be planted by Menaqua together with the Forest Department of the Ministry of Agriculture of Jordan using advanced 'cocoon technology', a Dutch innovation by Land Life Company. The trees will be available for adoption through EcoMatcher's digital blockchain-based platform.
Cocoon technology is used in dry and degraded land, supporting a seedling through its critical first year by providing water and shelter while stimulating the seedling to produce a healthy and deep root structure, tapping into the sub-surface water supply.
"The Government of the Hashemite Kingdom of Jordan represented by the Ministry of Agriculture is excited to announce that – together with Menaqua and EcoMatcher – it will begin the reforestation of the Al Haysha forest in the Ma'an governorate. By planting native Jordanian trees using novel cocoon technology we will assist in restoring the natural landscape and help Jordan reduce the impact of climate change."
"We are impressed by the transparency, the digital tools, and the engagement possibilities EcoMatcher's platform is offering. Furthermore, we are excited to bring Menaqua's tree planting initiative in Jordan to the world," said Jeroen Kosterman, head of operations of Menaqua.
"EcoMatcher is proud to partner with Menaqua to plant trees in Jordan using cocoon technology and to enable our customers to get involved," said Bas Fransen, CEO and Founder of EcoMatcher. "Tree planting is crucial for addressing the climate crisis and this initiative cannot come at a better time."
The End
About Menaqua
Menaqua, the reforestation company in the Middle East and North Africa, restores, in cooperation with local 3rd parties, damaged ecosystems. Please visit Menaqua at https://www.menaqua.com.
About the Ministry of Agriculture of Jordan
The Ministry of Agriculture of Jordan is responsible for the agricultural sector, promoting self-sufficiency and rural development and linking the production to the markets' requirements inside and outside Jordan. It also aims to promote plant production, control plant pests, preserve forests and pastures, and also regulate the establishment of breeding farms or livestock holdings, poultry farms, fish farms, fishing, beekeeping, animal health, and veterinary quarantine, as well as the role of the Ministry in the protection of wild birds and wild animals. Please visit the Ministry of Agriculture of Jordan at http://moa.gov.jo/Default/Ar.
About EcoMatcher
EcoMatcher plants trees and complete forests with vetted foundations from around the world that are specialized in tree planting. Through technology, EcoMatcher's clients know everything about every tree planted, offering full transparency. Through EcoMatcher's digital blockchain-based platform, companies can use trees as meaningful corporate gifts, rewards, loyalty and employee engagement, and transparent carbon offsetting. You can virtually travel to every tree and learn more about the tree and the tree's farmer.