EcoMatcher Launches the EcoMatcher Global Forest
Posted on 29-08-2023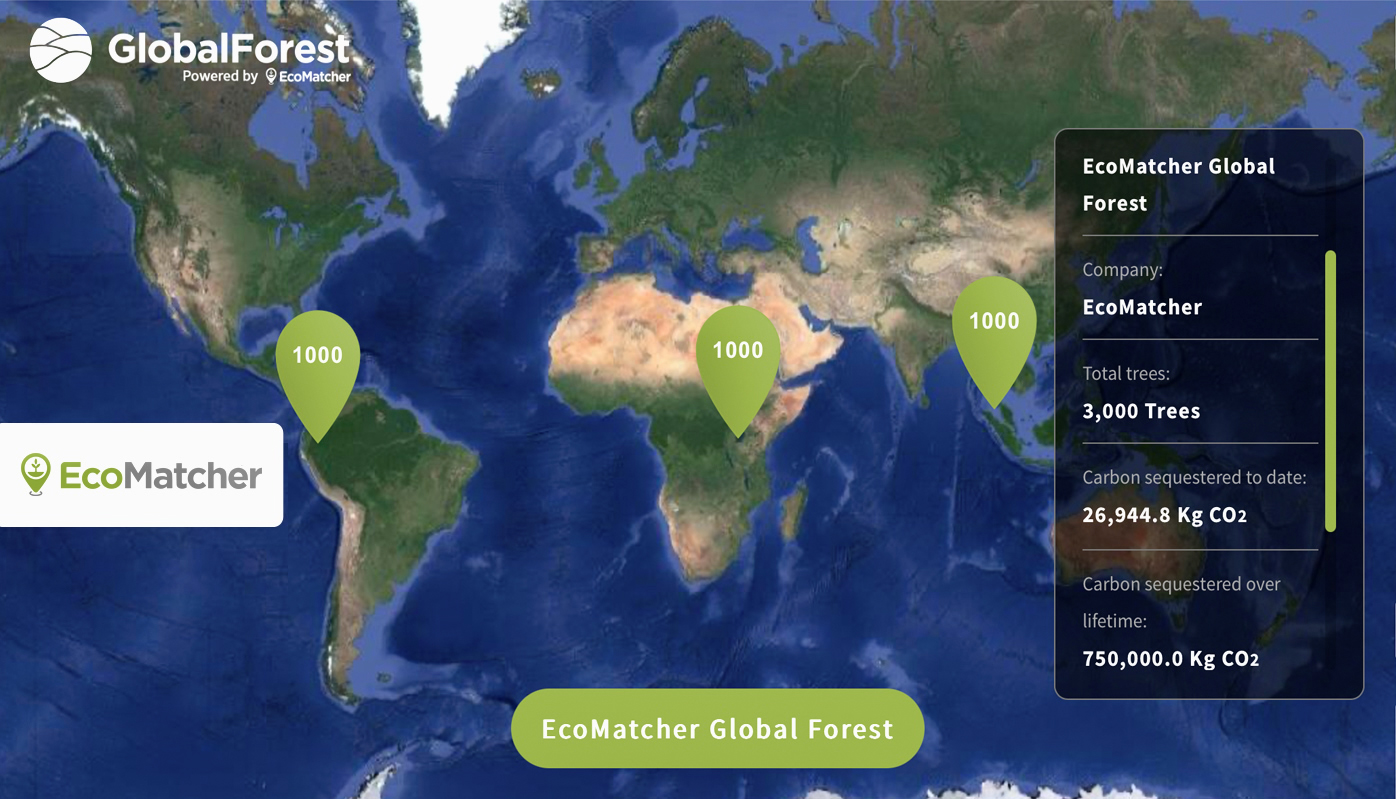 And for every new social media follower, a new tree will be added
Hong Kong, August 29, 2023 – EcoMatcher, a leading provider of corporate tree planting solutions, is excited to announce today the launch of the EcoMatcher Global Forest, starting with 3,000 trees planted on behalf of the EcoMatcher team. This initiative will harness the power of social media to grow the EcoMatcher Global Forest to drive reforestation efforts further and combat climate change.
For every new follower gained on any of EcoMatcher's social media accounts, a tree will be planted by EcoMatcher in designated reforestation sites around the world, starting in Ecuador, Thailand, and Uganda. This innovative approach allows followers to make a positive impact on the environment simply by supporting EcoMatcher's mission.
EcoMatcher aims to mobilize a massive community of environmentally conscious individuals, including EcoMatcher's own staff, committed to making a tangible difference.
EcoMatcher's CEO and founder, Bas Fransen, expressed excitement about the project's potential impact: "We are thrilled to introduce the EcoMatcher Global Forest, an initiative that combines the power of social media and environmental conservation. With each new follower, we take one step closer to a greener and more sustainable future. With the launch of the EcoMatcher Global Forest, EcoMatcher is also its own customer using the same EcoMatcher tools and technologies our customers are using, and can further learn and improve."
Joining the EcoMatcher Global Forest is simple. Just follow EcoMatcher's official social media accounts on LinkedIn, Facebook, Twitter, and Instagram, and for every new follower, a tree will be planted. Progress on the growth of the Global Forest can be found here: www.ecomatcher.com/ecomatcher-global-forest.
About EcoMatcher
EcoMatcher (https://www.ecomatcher.com) plants trees with vetted tree-planting foundations. EcoMatcher knows everything about every tree through EcoMatcher technology, offering full transparency and engagement. Companies use trees for programs such as meaningful corporate gifting, loyalty, rewards, employee engagement, events, and transparent carbon offsetting. Users can virtually travel to every tree in 3D and learn more about the tree and the tree's farmer.