EcoMatcher Introduces TreeTracker 3D
Posted on 06-07-2023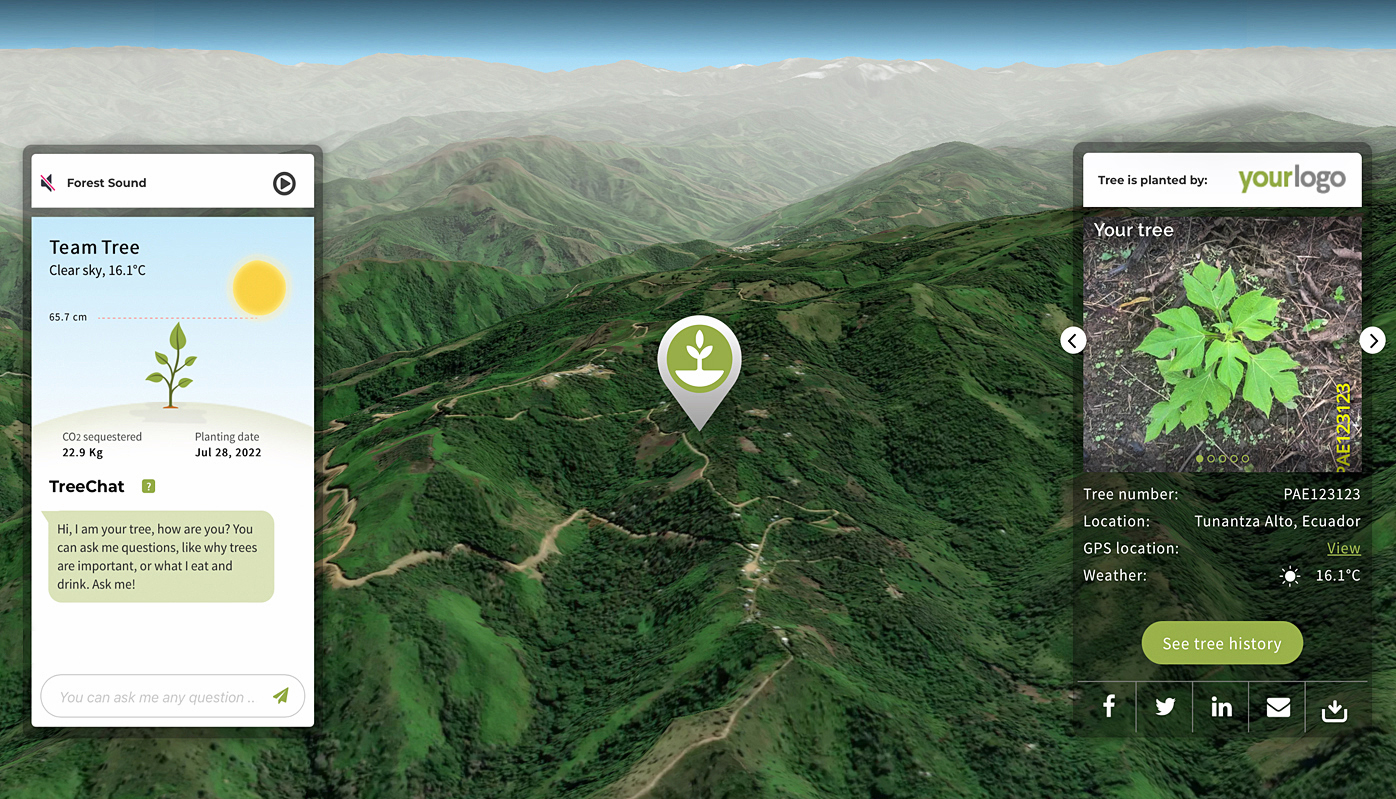 Hong Kong, July 6, 2023 – EcoMatcher, a global leader in tree tracking and reforestation initiatives, is thrilled to announce the launch of TreeTracker 3D, a groundbreaking addition to its suite of tree technologies. This innovative solution combines the power of 3D technology, beautiful satellite maps, and interactive features to provide users with an immersive and engaging tree-tracking experience.
With TreeTracker 3D, users can explore their tree's ecosystem in mesmerizing 3D, gaining a deeper understanding of their environment. In addition to the visual experience, TreeTracker 3D offers interactive features to enhance user engagement. Users can listen to the sounds of the forest, chat with their chatbot-powered trees, and send personalized messages directly to their tree planter, fostering a sense of connection and appreciation.
"We are super excited to introduce TreeTracker 3D, an immersive and innovative solution that revolutionizes the way individuals engage with their trees," said Bas Fransen, CEO and Founder of EcoMatcher. "By integrating cutting-edge 3D technology with our existing tree tracking platform, we aim to bring our users closer to nature and deepen their commitment to sustainability. Through TreeTracker 3D, we hope to inspire a new wave of environmental stewardship."
TreeTracker 3D is initially available for EcoMatcher's web-based tree trackers for both mobile and desktop, as well as the EcoMatcher App for Microsoft Teams. Later in the year, it will become available on EcoMatcher's TreeApp for iOS and Android. TreeTracker 3D is backward compatible, so existing EcoMatcher users can track their trees in 3D.
About EcoMatcher
EcoMatcher plants trees and complete forests with vetted foundations from around the world that are specialized in tree planting. Through technology, EcoMatcher's clients know everything about every tree planted, offering complete transparency. Through EcoMatcher's digital blockchain-based platform, companies can use trees as meaningful corporate gifts, as rewards, for loyalty and employee engagement, and for transparent carbon offsetting. You can virtually travel to every tree in 3D and learn more about the tree and the tree's farmer.