EcoMatcher Category Maker Sustainability in Microsoft Teams
Posted on 01-03-2023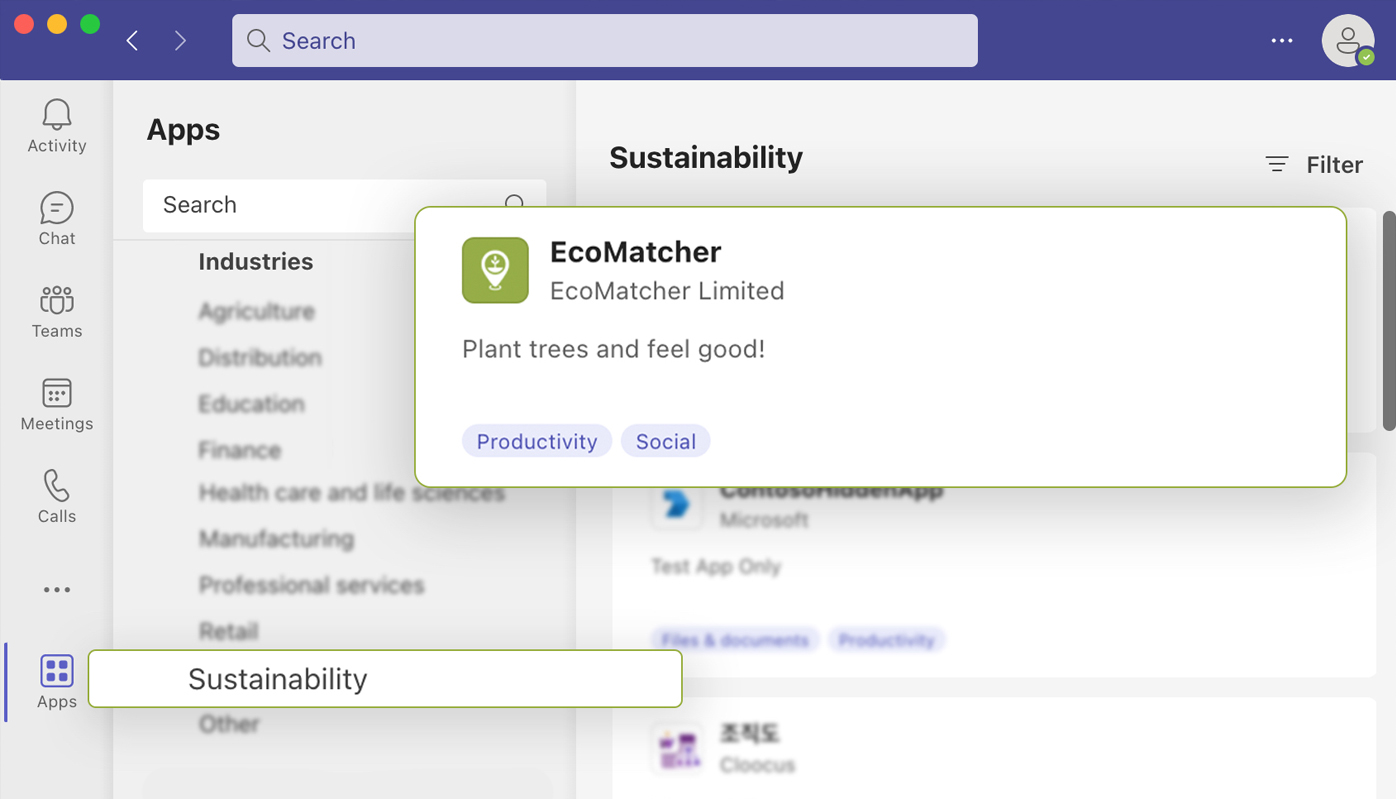 Hong Kong, March 1, 2023 – Last November, at COP27, EcoMatcher launched the first version of the EcoMatcher App for Microsoft Teams, enabling Teams users to plant and track trees, all without leaving Teams.
Today, at the request of EcoMatcher, Microsoft has added the Category Sustainability to the Teams' App Source, with EcoMatcher leading this new category; Teams' users can now easily find EcoMatcher.
"The reception by our customers on the EcoMatcher App for Teams has been fantastic," said Bas Fransen, CEO and Founder of EcoMatcher. "We are proud to be the Category Sustainability maker and leader in Teams. For all 250 million Microsoft Teams users, becoming more sustainable has become even easier."
About the EcoMatcher App for Teams
The App brings the benefits of tree-planting directly into Microsoft Teams. With the App, Teams users can plant trees, track them through satellite mapping, view pictures of the trees and farmers looking after them, and even chat with their chatbot-powered trees and listen to 'Forest Sounds' to improve their overall well-being, all without leaving Teams.
The App does not require crucial "permissions," making it easy for companies to decide to add the App to their Teams' tenant space.
For more on the EcoMatcher app for Teams, go to https://teams.ecomatcher.com.
About EcoMatcher
EcoMatcher (https://www.ecomatcher.com) plants trees with foundations specialized in tree planting. EcoMatcher knows everything about every tree through technologies, offering full transparency and engagement. Companies can use trees for meaningful corporate gifting, loyalty programs, rewards, employee engagement, events, and transparent carbon offsetting programs. You can virtually travel to every tree and learn more about the tree and the tree's farmer.