EcoMatcher Unveils Next-Generation Tree App
Posted on 28-06-2023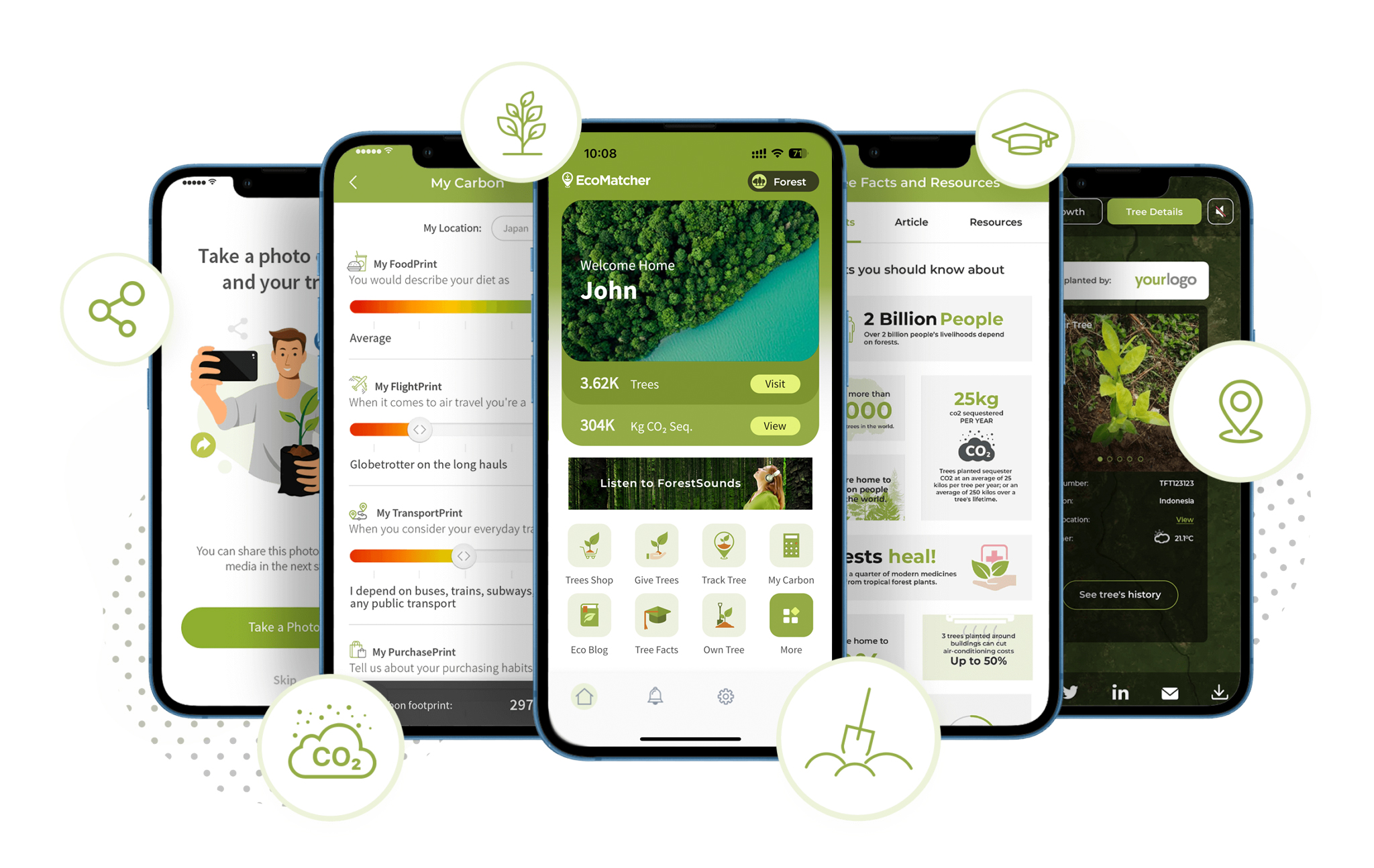 Hong Kong, June 28, 2023 — EcoMatcher, a leading environmental technology company committed to combating deforestation and promoting sustainable practices, is thrilled to announce the launch of its highly anticipated next-generation Tree App for iOS and Android. This groundbreaking update revolutionizes the way users engage with reforestation efforts, learn about trees, and contribute to a greener planet.
The enhanced Tree App introduces a range of innovative features, designed to enhance user experience, and maximize their impact:
Notifications: Stay up to date with personalized alerts on tree planting milestones and sustainability initiatives, ensuring users never miss an opportunity to contribute.
Capture Your Own Trees: Users can now easily capture and document the trees they plant themselves, capturing memories and creating a personalized connection to their green efforts. The feature also enables corporations to have employees plant their own trees anywhere in the world and make them part of the company's global forest.
Improved Carbon Footprint Calculator: The Tree App empowers users to calculate their annual carbon footprint quickly and get personalized suggestions on how users can reduce their carbon footprint and adopt sustainable practices in their daily lives.
Expanded Language Support: EcoMatcher extends its global reach by adding German, Simplified, and Traditional Chinese, bringing the total number of supported languages to an impressive 13.
Enhanced User Interface: The Tree App features a completely revamped home page, offering a seamless and visually appealing user experience.
"At EcoMatcher, we are constantly striving to provide users with the most effective tools to make a positive impact on our planet," said Bas Fransen, CEO, and Founder at EcoMatcher. "Our next-generation Tree App revolutionizes the way individuals engage with reforestation, offering new features that empower them to plant, track, and gift trees while fostering a global community of environmentally conscious individuals."
With the launch of the next-generation Tree App, EcoMatcher continues to lead the way in promoting reforestation, sustainability, and a greener future for all. Join us in the journey towards a more sustainable world by downloading the free Tree App on iOS or Android today: